Office Soundproofing
There are many challenges to working in an office, but excessive noise shouldn't be one of them. From cubicles to private offices, to conference rooms, DDS Acoustical Specialties has office soundproofing products and solutions for any environment.
Privacy and speech intelligibility are important aspects of various working environments. You want to make sure your Human Resources team can have private conversations and your sales and customer service teams can make and take calls without noisy distractions. Don't let noise be detrimental to your team's productivity.
Acoustic Products for Offices
In many office environments you want to solve the noise problems while keeping the space looking attractive and on brand. Fortunately, the acoustic products we typically recommend for office use can be customized to fit any aesthetic.
We utilize products such as acoustic wall and ceiling panels, clouds, and baffles that have a high Noise Reduction Coefficient (NRC). These products help by absorbing noise which in turn reduces the amount of echo in a space as well as the amount of the noise transmitted to adjacent spaces. This helps speech intelligibility and makes speaking and listening on the phone, in person, and videos calls easier.
We also offer acoustic doors and designs with high Sound Transmission Class (STC) ratings. Doors are important because they act as a noise barrier to other spaces. Even a 1% gap in an area can reduce the effectiveness of a barrier by 50% so it is important to install doors with soundproofing in mind.
Acoustic Ceiling Tiles
Does your office have a drop ceiling with existing ceiling tiles? If so, you may want to think about what their acoustical value really is. If your concern is sound absorption and reduce the transmission through ceiling areas and maintain privacy, you'll want to make sure that your ceiling tiles are up for the job.
We offer acoustic ceiling tiles and covers that can either replace your existing tiles or be installed above them. Our acoustic tiles can consist of both absorber and barrier material depending on the results desired. Using a fiberglass backing our tiles have a high NRC rating. The material can also include a barrier backing or septum to decrease noise transmission from office spaces.
Soundproofing Open Floor Plan Offices
Today we are seeing more and more businesses transition to community work areas and open floor plans for their staff. This can create an inviting and collaborative environment but when there are a lot of people present it could get noisy. For these types of areas we would recommend acoustic panels or baffles to absorb the noise.
In cases with open floor plans and desk, we can create custom, creative noise solutions such as desk dividers made of acoustic materials for privacy areas.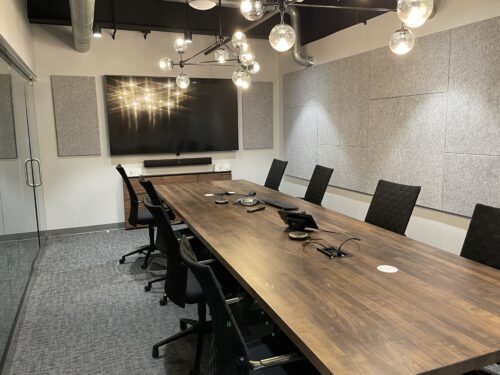 Benefits of Office Soundproofing
Increase productivity for staff members

Reduce echo and reverberation

More privacy between offices and conference rooms

Increase speech intelligibility for calls and video conferences