HVAC & Construction Noise Control
Quiet Noise from HVAC Systems and Construction Sites
Construction site noise can pose special problems for controlling noise. Several different factors can contribute to construction noise such as weather, atmosphere, landscaping, and construction noise makers, e.g., earth moving equipment.
Noise pollution can cause harmful effects such as speech interference, hearing loss, raise stress levels, and sleep disturbances to name a few.
Call DDS Acoustical Specialties about our HVAC and construction noise control solutions if you are a Construction Company, a City Administrator, a Facilities Manager, a Safety Manager, a Human Resource Manager, or a Building Owner looking to resolve on-site, in the building or in the system noise issues.
We have over 30 years of noise mitigation experience associated with the Sheet Metal, Mechanical Contracting and Construction industries, offering customizable products, services, and installations. Let our resources and solutions work for you and your HVAC and construction soundproofing needs.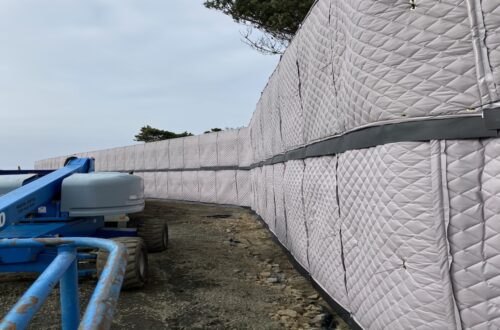 Construction Noise Control Products Include
Flexible Curtain Barrier Walls feature our durable reinforced noise barrier and a UV and tear resistant exterior grade faced quilted fiberglass sound absorber sewn with a Gore Tenera exterior grade thread.
Common uses:
Site Fence Lines
Roadways
Detachable Panels for Heavy Equipment.
---
Metal Barrier Walls are used to place a sound barrier between a noise source and a sensitive receiver. This barrier creates a "sound shadow" zone of quiet that can be tailored to cover almost any size area either indoors or out. Absorptive noise control barriers provide maximum noise reduction with lightweight modular panels and/or louvers.
---
Flexible Curtain Enclosure systems offer significant noise reduction with high STC and NRC acoustical ratings. They can be supplied as a partial or complete enclosure around noisy industrial equipment or an area. These systems are highly customizable.
---
Metal Enclosures come in any size and are pre-engineered panel systems that include wall and ceiling panels, doors, windows, and silenced ventilation systems. Isolated floors, access panels, removable wall and ceiling panels are also available when necessary. All materials are acoustically rated by independent testing laboratories to ensure the appropriate noise reduction for every application. Equipment Enclosures, Pumps, Fans, Compressors, Large Scale Equipment Rooms, Generators Sets, Co-Gens, Turbines, Factory Offices, Control Rooms, Guard Houses
---
Acoustical Barriers & Lagging
Acoustical Barriers & Lagging for Pipe, Duct, Fans, Blowers, Mechanical Shafts, or miscellaneous equipment, our materials are custom fit and tailored to the specific application.
---
HVAC Sound Attenuators
HVAC Sound Attenuators provide effective, predictable noise reductions that will meet the most strenuous of specifications. Special or custom silencer applications for HVAC soundproofing are not a problem and can be developed for you.
---
Vibration Isolation Padding
Vibration Isolation Padding is used to reduce noise, high frequency vibration, and impacts from machinery. A high-grade neoprene or rubber medium can be provided that efficiently and economically controls structure-born noise, resonant vibration and provides a firm footing to both floor and equipment.
Benefits Of HVAC/Construction Noise Control
Increased Focus, Concentration, Productivity

Relaxing atmosphere

Lower speaking levels

Lower stress levels

Increased Speech intelligibility

Meet/Exceed Local Noise Ordinances

Eliminate noise complaints, penalties & fines

Reduced Worker Hearing Loss

Accident & Injury Reductions

Be a Good Neighbor