March 14, 2022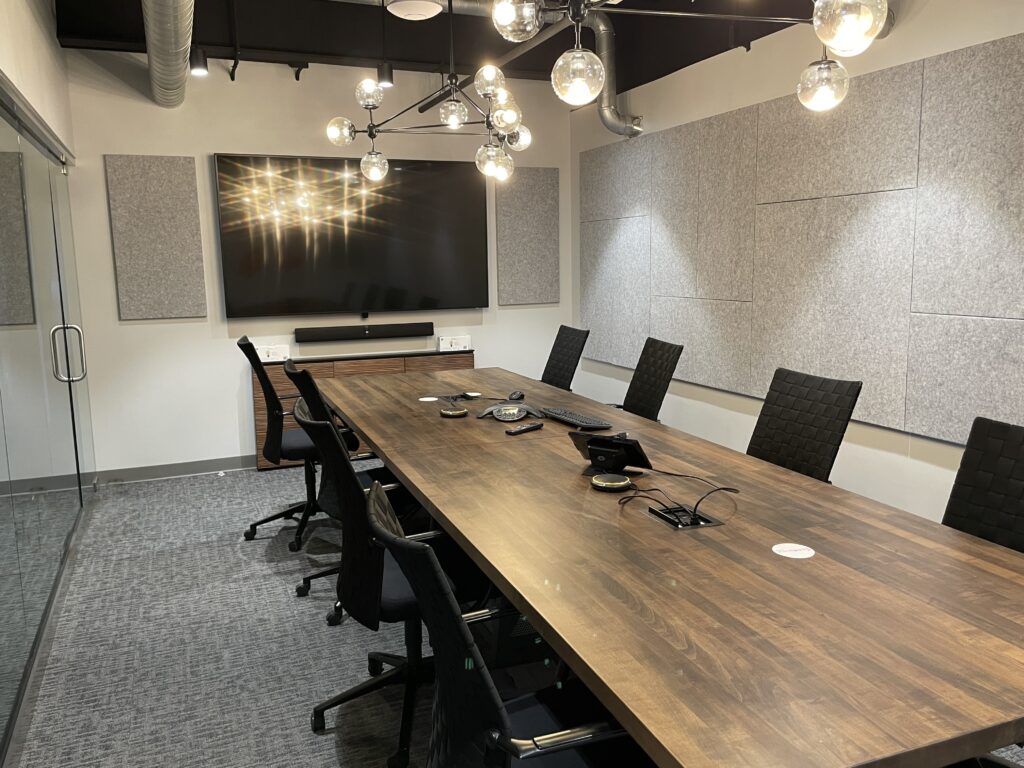 Acoustic Office Treatment at Aegis Energy Services, LLC
Aegis Energy Services is a nationally renowned supplier of cogeneration units capable of providing heat and electricity in one extremely efficient platform. Operational advantages over traditional heat and electricity sources have led to continued growth over the past 35 years. Having outgrown their facility at 55 Jackson St. in Holyoke, MA, they turned to a historic old building immediately adjacent to their existing facility. Built in 1880, the building, while neglected, showed promise. Throughout the course of 2020, the building was reclaimed and soon showed how beautiful and functional the old mill building could become.
While showcasing many of the original aspects of the building, modern materials such as drywall and glass were incorporated into the design of the new offices. One hundred and forty-year old brick soon coexisted with all the modern elements of todays most sophisticated office buildings.

Advanced audio-visual technology put them well positioned for the pandemic and its necessity for remote work. One challenge appeared as workers went remote and the workforce began to depend on technology for communication. The modern materials and design of the space, while visually stunning, was not acceptable from an acoustical point of view. Excessive reverberation caused speech intelligibility issues, as well as office cross-talk challenges.
Turning to DDS Acoustical Specialties, LLC, was the first step in creating spaces that would be aurally and acoustically correct.
It was determined that one Call Service Area, one Conference Room and the office of the CFO would be treated. These are all areas where speech intelligibility and speech privacy were critical.
An initial site assessment included development of RT60 calculations to determine the amount of acoustical absorption needed in the spaces. Then, products such as Sound Seal's Sound Quality fabric wrapped fiberglass panels and also the new line of PET based absorption products known as Poly-Coustix were proposed.
Opting for the new and extremely popular Poly-Coustix products, a plan was arranged for installation work during off hours so as to keep disruptions to a minimum. Poly-Coustix Tetrix-Air panels in Arctic Ice and Light Grey were utilized.
Final reverberation (RT60) figures were well below 1.00 second and the perceived difference was eye opening. From a pre-treatment level of well over 3.00 seconds, the Poly-Coustix products performed beyond expectations. The extremely simple installation method allowed the installation to be completed in just over 24 hours with minimal internal disruptions.
Personnel from Aegis were surprised and thrilled at the difference.
"There were some people who were skeptical about the success of the project. I can't wait for them to hear the difference!"