Factory Soundproofing
Factories are places that typically have a lot of moving pieces. People, machines, HVAC systems – all these pieces can make a considerable amount of noise. And in some cases be detrimental to health, safety, and productivity. According to OSHA, an employees should not spend more than eight hours a day exposed to noise levels over 85 decibels. Fortunately, DDS Acoustical Specialties provides custom factory soundproofing solutions to reduce noise and keep employees safe, healthy, and productive.
Elevated noise levels not only make it harder to hear warning signals but negatively effects productivity and absenteeism. In addition, prolonged exposure to noise in the workplace is often linked to industrial accidents. Workplace violence along with other anti-social behavior can result from too much noise.
Acoustic Products for Factories
When posed with the request to reduce noise in a factory or industrial setting, we first locate the noise sources. Does the noise come from a single machine or is it a combination of many small sounds in the industrial process. Such as forklifts, human voices, fans and general machinery noise? For combined ambient noise, sound absorbers installed on the ceiling or walls of the factory reduce reverberant energy and lower overall noise levels.
We recommend for stationary noise sources, installing an acoustical enclosure around a machine. We can create custom full or partial acoustic enclosures that meet the your workflow and machine accessibility requirements. Our enclosures are constructed from metal sound panels, flexible curtains, or a combination of the two. They can be designed with viewing windows, doorways and access points as needed.
DDS Acoustical Specialties works closely with you and your team to understand the specific challenges in your workplace. We design a noise control solution that works in your environment. We take careful consideration of the day to day use of machines, how they are operated, and ventilation needed. Having a better understanding helps us design custom solutions that benefit the entire business.
Exterior Factory Soundproofing
Noise mitigation for factories often times does not simply stop at the interior walls. Whether it be ventilation systems, generators, or other machines, the sounds they make can break out and impact neighbors. It can also be important to build acoustic walls or use HVAC silencers in and around exterior noise sources. This helps stay within local and state noise ordinances and reduce noise complaints.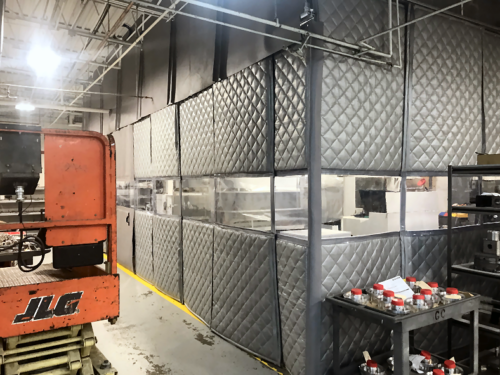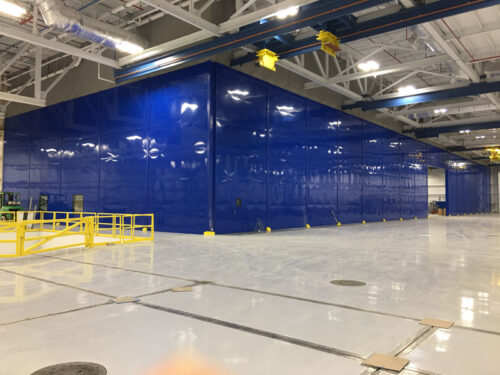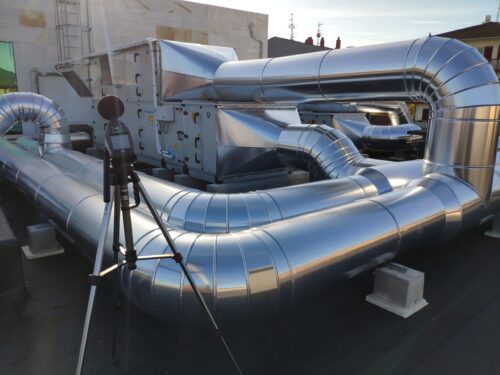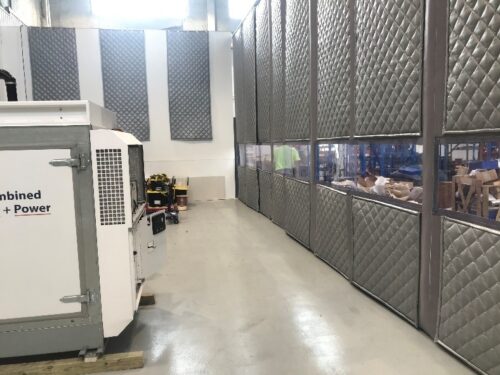 DDS did an amazing job sound proofing some difficult areas. They were great to work with and I would highly recommend them! Just to add...we had DDS come back and sound proof other areas because we were so pleased with their work. Highly recommend!
We are so thankful for the installation that DDS Acoustical Specialities did for a preschool classroom. The panels are making a remarkable difference in the sound in the room! The children and staff are able to concentrate more in the echo-free space. The company was excellent from start to finish! Fair estimate, quick turnaround, prompt, professional and high quality work! DDS was a pleasure to work with and I would highly recommend you call them to help with sound issues! They can improve your sound to make a difference!
Rachelle Kehoe
2023-07-27
From the very start DDS was a winner in my book. Dave answered the phone, came right out to assess our needs and we had a quote in no time. Their crew was informative, professional and kept their space tight and clean. And the product.... what a difference it has made in our restaurant. Even during the phases we could hear a difference from where the panels were installed and where they were not yet done. I would HIGHLY recommend them!
We recently worked with DDS Acoustical Specialties on an acoustic solution for a workstation area. We went with a combination of pinnable panels, ceiling panels, wall panels, and art panels, which have exceeded our expectations for the space.
Sarah Rahkonen
2023-03-21
My church engaged DDS Acoustical Specialties to reduce the noise level in our parish hall. The hard surfaces on the floor, walls, and ceiling made it difficult to converse when the room was full. We are very pleased with both the appearance of the sound absorbing foam panels which DDSAS installed on the ceiling and also with the reduction in the noise level. Many of our members have commented favorably on the improvement. I would recommend this company without reservation.
Great experience. We had a very severe sound reverberation issue in our town hall meeting room and Tyler and his team solved it quickly and affordably. Town meetings will never be filled with complaints (about the inability to hear) ever again. I highly recommend this company. And if you are ever in the Town of Sharon, Connecticut on a weekday, pop in, go to the second floor and hear for yourself
I had a great experience with DDS Acoustical Specialties from start to finish. I have a small physical therapy practice in Burlington, VT. and needed soundproofiing for my office. Mary was prompt and very knowledgable about how I could be helped on the phone and throughout the process. Steve made the long drive to provide and estimate for the work, and was extremely efficient, professional and pleasant to work with during the installation. They soundproofed the doors and ceiling tiles and it's made a tremendous difference.The entire process took about a month from start to finish. I now feel confident that my space is private and secure for my clients. I would highly recommend their services!
Michelle Downing
2022-08-01
Great company to work with. Reasonable price for an acoustical solution in my 2900 sqf restaurant space. The noise has reduced considerably and people can hear each other even when the restaurant is fully booked. Highly recommended.
Antonio De Trizio
2022-08-01
We had a great experience working with DDS. They checked all the boxes: great service, extremely knowledgeable, great selection at different price points; worked quickly and efficiently. Will use again in the future!
After many many years of hoping to solve our acoustical issues with our church hall, Memorial Congregational Church finally came across DDS Acoustical in 2020. DDS immediately came up with a solution that seemed plausible but could it fit within our limited budget. Being a church, nothing gets done overnight but DDS was very patient with us and after many changes of material and colors, we were finally able to get the approval to go ahead with the project earlier this year. I think all of us on the Trustees committee were holding our breath as to what the final outcome would be but in less than 4 days, DDS transformed our echo filled church hall into a wonderful space that can now be used by our music staff for many different events. DDS was incredibly helpful and patient with our church members and they answered every question in a professional manner and their work ethic is second to none. DDS gets 5 stars from Memorial Church.
Benefits of Factory Soundproofing
Increase productivity

Increase health and safety

Reduce external environment noise to adhere with local and state ordinances

Great long-term investment