Noise, OSHA, and Occupational Health and Safety
The Center for Disease Control (CDC) estimates that 22 million workers are exposed to potentially damaging noise at work each year. Regardless of where you work, hearing loss is preventable with proper sound and safety measures.
How loud is your workplace?
If you need to raise your voice to speak with someone 3 feet away, chances are noise levels are over 85 decibels (dB). According to OSHA standards, noise in the workplace should not exceed 85dB over 8 working hours. If exceeded, employers may be required to implement a hearing conservation program, which can be expensive and time consuming.
Stay Ahead with a Sound and Safety Noise Survey
Noise level testing and readings should be conducted by experienced acoustic professionals. DDS Acoustical Specialties offers sound surveys to determine initial noise levels. Using our findings and your desired goal, we create an acoustic solution that will protect employees.
How to Reduce Noise in the Workplace
Sound and safety improvements in the workplace are accomplished in a number of ways. We always talk about how we can reduce the noise.
Step 1 – Identify the noise source(s)
Step 2 – Determine what kind of noise we are experiencing. Airbourne, structure-bourne, a combination of the two?
Step 3 – Determine what products and application can be used to reduce the noise from the source in a given area.
Acoustical Products for Sound and Safety
We talked about the steps we take to reduce noise, now we'll discuss some of our products. We will discuss both acoustic barrier and absorption solutions.
Barrier Walls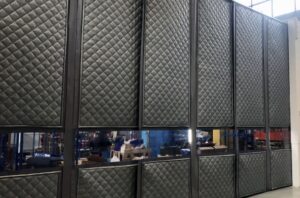 We utilize acoustic barrier walls to block noise in a given direction. Typically made of either metal or mass loaded vinyl panels (MLV), barrier walls have a high Sound Transmission Class (STC) rating. Therefore to stop loud noise from machines, one option is to construct barrier walls around it.
Custom built to the need of the customer, barrier walls can include windows for viewing and access and entryways.
Enclosures
Made up of several barrier walls, an acoustic enclosure often provides the highest noise reduction. Enclosures can partial (2-3 sides) or full (4 sides with optional roof). Additionally, enclosures and be permanent or portable.
With enclosures we also keep in mind the need for ventilation and machine access. Custom designed, we can include areas for fans, ventilation, and machine control access.
Absorption/Barrier Composites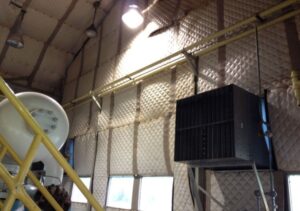 By combining absorptive products, such as quilted fiberglass with a barrier, we achieve the highest possible noise reduction. Created with either a MLV barrier backing or an MLV septum, quilted fiberglass acoustic composite panels provide high STC as well as Noise Reduction Coefficient (NRC).
Additionally, applied directly to a metal barrier wall or other solid structures, standard quilted fiberglass absorbers provide additional NRC and noise reduction.
Vibration Isolation – Resilient Pads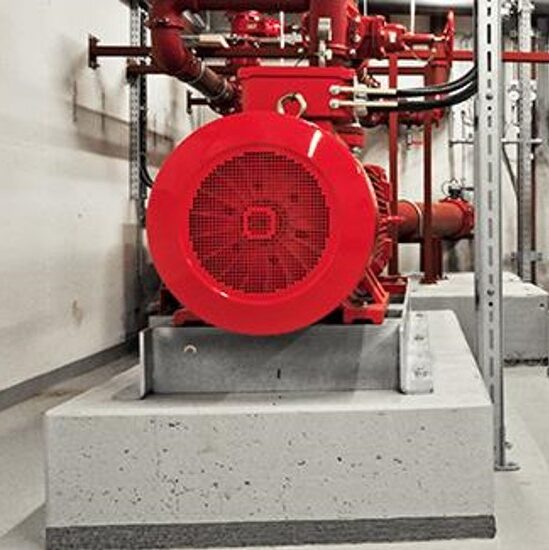 The noise mitigation solution for structure-borne noise is typically to isolate the vibrations created by a source. To do this, factors we take into consideration are the weight of a machine, its footprint, and its load.
With this information we are able to engineer a vibration isolation solution using products such as rubber or cork resilient pads. These pads isolate the vibrations created by the machine and significantly reduce structure-borne noise.