Acoustic Enclosures
An acoustic enclosure is essentially a box designed to trap and mitigate noise produced by a noise source. They are often used to protect employees from hazardous noise in industrial/manufacturing facilities or reduce environment noise. Solving your noise issue with acoustic enclosures of sufficient STC, around the offending noise source sounds relatively easy, but there are many factors to consider.
The challenges often come from not the noise itself, but the requirements enclosures need to meet. From very small, simple acoustic enclosures to large custom engineered systems, issues that may need to be addressed when designing the enclosure are:
Access (maintenance, safety, machine operation)
Visibility (machine progress, gauges, etc.)
Ventilation (electric motors generate heat)
Material ingress and egress
Depending on the product, enclosures can be floor, ceiling, or wall mounted. They can even be suspended from a roof deck. Economical enclosure systems utilize acoustic curtain panels made of reinforced mass loaded vinyl barriers and quilted fiberglass absorbers. In order to achieve the greatest STC, certain applications may require the use of metal wall enclosures. And in some cases, enclosures may be engineered using a combination of products.
Engineering and Designing Acoustic Enclosures
DDS Acoustical Specialties knows how to solve any noise issue. We approach noise problems from all angles and design and provide an enclosure system that meets and/or exceeds your noise requirements. We provide:
Pre-engineered, pre-assembled metal panel enclosures
In-plant custom engineered metal enclosures
Acoustical curtain composite enclosures
Applications Include
Machinery Enclosures
Test Cells
Printing Plant Quiet Rooms
Quality Control Test Areas
Thermal Spray Rooms
Coordinate Measuring Machine Rooms
Factory Offices
Quiet Rooms-Single or Double Wall
HVAC Plenums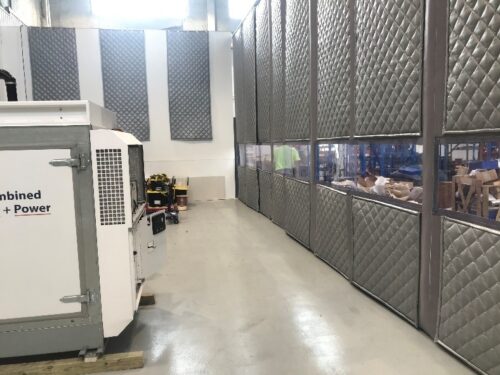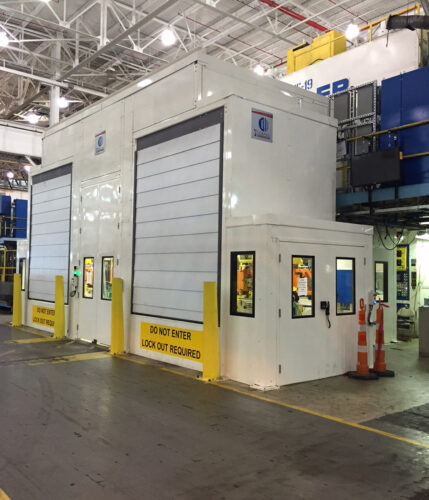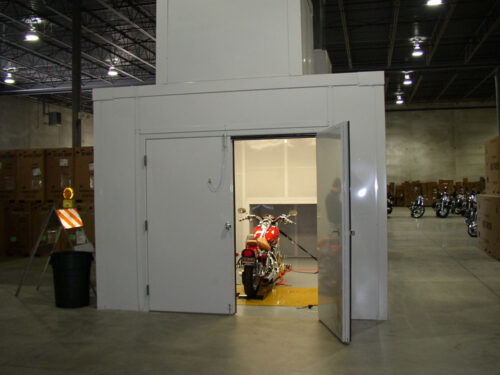 Types of Enclosures
The two primary types of enclosure systems that we recommend are acoustic curtain panel enclosures and metal panel enclosures.
Acoustic Curtain Panel Enclosure
Curtain panel enclosures are custom made and can be floor, ceiling, or wall mounted in addition to be suspended. The provide endless possibilities whether you want a full, partial, or portable enclosure.
Double Track systems allow for easy installation of sliding entryways
Custom cut to allow for ventilation and air flow
Can incorporate clean vinyl noise barrier for viewing within enclosure
---
Metal Panel Enclosures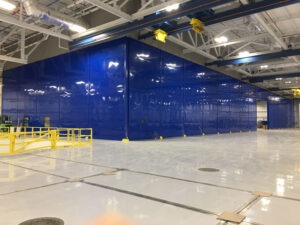 Our metal soundproofing enclosures are custom designed to fit various applications specific to your work environment. Along with our custom designs, our enclosures consider easy access and ventilation to prevent machine malfunctions and create a comfortable environment for individuals utilizing an enclosed office space.
Product Features
Unlimited size, design and features

Multiple panel types to meet your specific requirements

Interior or exterior use

Electric posts available for outlets and switches

Single leaf and double leaf doors

Sliding doors, lifting doors, and bi-fold doors also available

Hinged and removable access plugs

Removable panels & Single glazed or double glazed windows