Acoustic Pipe and Duct Wrap
Acoustic pipe and duct wrap products mitigate noise caused by HVAC duct casings. We offer product for interior and exterior applications and can be applied to round or rectangular duct and pipe systems.
Lag Pipe and Duct Wrap
This product is a flexible 1 lb or 2 lb per square foot reinforced foil-faced faced mass loaded vinyl noise barrier. It is typically used to wrap noisy pipes and ducts to block the noise that transmits through the walls of the pipe or duct as air or other contents move through it as well as to increase the sound absorption in the cavity. The reinforced foil-faced exterior serves as a protective jacket for indoor or outdoor applications.
Lag Pipe and Duct Wrap With Acoustic Insulation
Pipe and Duct Wrap Acoustic Insulation is the solution for noise control and sound proofing of noisy pipes and duct works. This product consists of a mass loaded noise barrier with reinforced foil facing on one side bonded to a 1″ or 2″ sound absorbing quilted fiberglass decoupler respectively.
Outdoor Lag Pipe and Duct Wrap With Aluminum Jacket
An acoustic composite combining a noise barrier bonded to a rugged aluminum jacket. Designed specifically to meet varied acoustic performance needs. This product offers versatile solutions for all pipe and duct noise control problems. They are available in smooth, corrugated and embossed jacket finishes over a 1.0 lb or 2.0 lb / sq loaded vinyl barrier. They offer aesthetics, protection and durability for exterior and chemical resistant applications.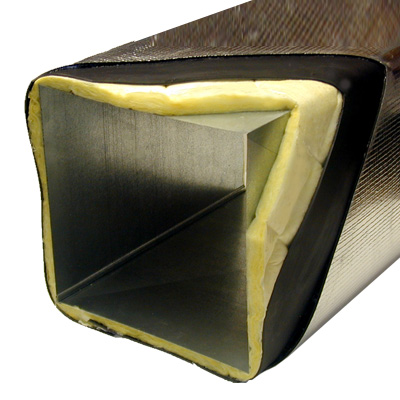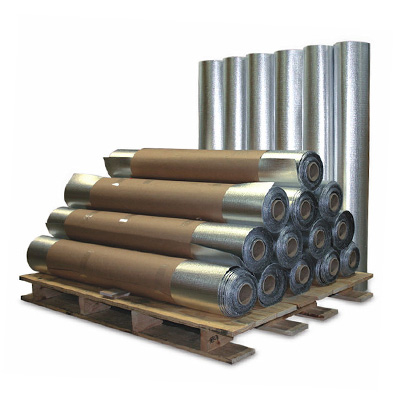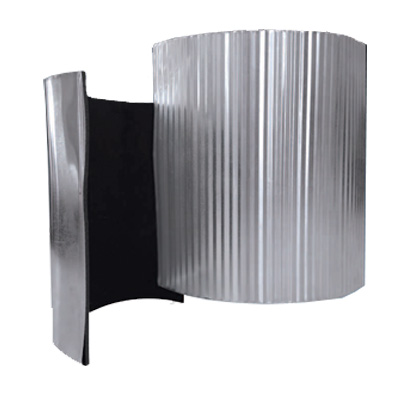 Features of HVAC Pipe and Duct Wrap
Available with a 1" or 2" quilted fiberglass decoupler

Standard rolls are 54" wide x 30' long

Acoustical ratings STC-27 to STC-34

Available with a 1# or 2# per square foot vinyl noise barrier

Easy to cut and install

Accepts matching lag tape

Class A flammability rated composite

Can be used with either rectangular or round ducts