Industrial Sound Baffles
Industrial Sound Baffles, Wall Panels, and Ceiling Absorbers are used to reduce the reverberation time, lower ambient noise levels, and improve communication in a variety of applications.
Our quilted fiberglass overhead baffles feature a durable vinyl-coated-fiberglass-cloth facing quilting to a one-inch or two-inch fiberglass. These Class A Flammability Rated baffles, offering high NRC ratings, are available in a number of colors and stitch pattern and can be custom fabricated to any size requirement.
Our baffles are available with either a decorative fabric facing or a nylon ripstop facing. These sound absorbers offer a wide range of colorful options which can be custom tailored for any commercial or architectural application.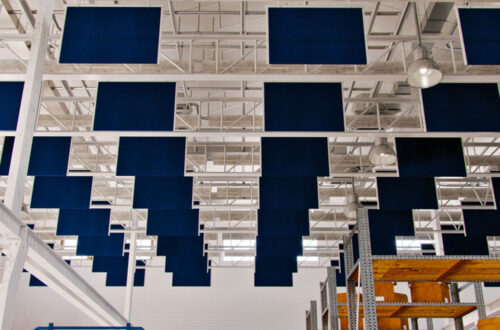 Polywrap Baffles
Sound Seal's Barricade Polywrap Baffles are a heat sealed polyethylene bag encompassing a sound absorptive fiberglass. The baffles measure 4′ wide x 2′ high and have (2) grommets along (1) 4′ side. White or black facings are available. These efficient, economic baffles offer a high NRC rating at an extremely low cost.
Features:
Durable Quilled Fiberglass style
Economic Polywrapped style
Effective, economic method of reducing reverberation
Ambient noise reduction up to 10 decibels
Class A Flammability Rating per ASTM E-84
---
Sanitary Baffles
Sanitary Overhead Baffles & Wall Mounted Sound Absorption Panels are an effective, economic method of reducing reverberant noise in areas where sanitary conditions and USDA or FDA approved products are mandatory. Sound Seal uses the latest in film technology to create economic products that are durable, chemically resistant and dimensionally stable.
Features:
FDA Approved, USDA listed
Washable
Temperature Range: -40°F to 200°F
Rip resistant facing
Stain Resistant
---
Ultra Baffle
"ULTRA" Sound Absorption Baffles and Wall Panels address customers' needs for high performance, durable, low cost sound absorbers. A virtually rip-proof reinforced polyester film encapsulates the sound absorption core. Standard Overhead Baffles are available in two styles (type "A" and Type "B") and two sizes (2'x 4′ and 4'x4′). Ultra Wall Panels are available in a variety of sizes. The bright white facing is light reflective to further enhance the working environment.
Features:
"Ultra" Acoustical Performance
"Ultra" Durability
"Ultra" Cleanability
"Ultra" Affordability
"Ultra" Easy to Install
Product Features
Durable quilted fiberglass style

Economic polywrapped style

FDA approved sanitary baffle style

Introduce soft, sound absorption materials into hard reflective environments

Effective, economic method of reducing reverberation

Ambient noise reduction up to 10 decibels

Light weight and self-supporting with no sharp corners

Easily relocated to other areas

Requires no maintenance, but can be washed or steam cleaned for hygienic or aesthic reasons

For industrial plants, warehouses, food processing facilities, gymnasiums, auditoriums, commercial, and architectural applications.