Library Soundproofing
DDS Acoustical Specialties provides and installs acoustical products that mitigates noise in and around libraries. Libraries have a reputation for being a quiet space where community members can concentrate, read, and gather. In today's age where libraries are becoming bustling hubs for collaboration and technology, the mission to be a quiet space to concentrate becomes difficult to achieve without proper library soundproofing and noise control.
Hard, reflective surfaces such as floors, sheetrock or concrete walls and windows cause sound to propagate from one section of the library to the other, causing constant disruption for those that need a degree of silence.
Proper application of acoustical products such as wall and ceiling panels, baffles, and barriers can be used to reduce noise cause by the reverberation and transmission of sound waves. These products also come in custom shapes, sizes, and colors in order to provide an attractive aesthetic for any space.
Interior and Exterior Library Soundproofing solutions
When you think of soundproofing a library you probably think of noise inside the library. However, in our experience with libraries, there is also outdoor noise created by the library's HVAC system and generators. This noise can be a nuisance for the library's neighbors and municipalities.
DDS Acoustical Specialties offers solutions for both interior and exterior noise issues. For interior projects, often referred to as architectural projects typically concern reverberation issues. We use products such as wall and ceiling panels, baffles, and clouds. These products have high Noise Reduction Coefficient (NRC) to reduce reverberation and echo. Products are customizable into various shapes, sizes, and colors and designed to aesthetically fit any space.
For exterior applications we utilize products such as acoustic curtains, metal barriers walls, HVAC silencers, and acoustic duct wrap. Exterior applications are typically aiming to reduce transmission of sound. All the products we use have high Sound Transmission Classes (STC) and are Class A Fire Rated.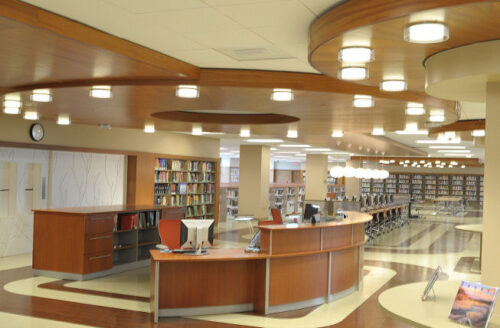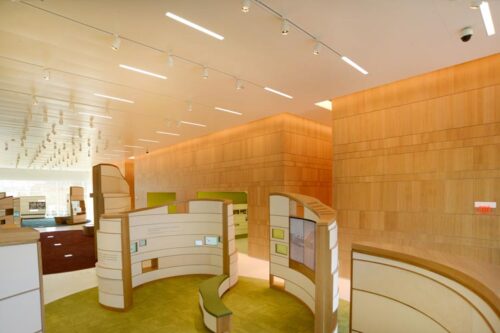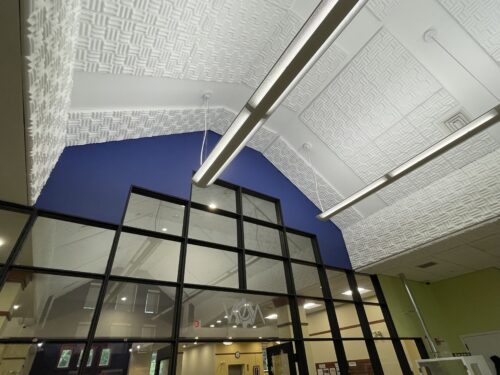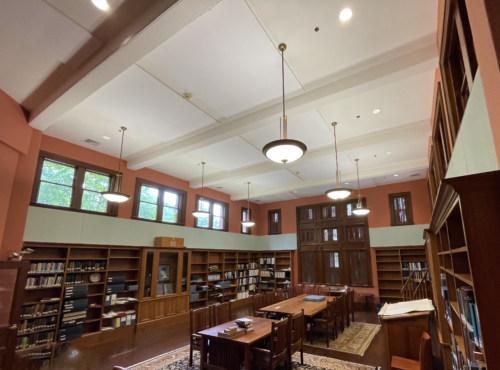 DDS did an amazing job sound proofing some difficult areas. They were great to work with and I would highly recommend them! Just to add...we had DDS come back and sound proof other areas because we were so pleased with their work. Highly recommend!
We are so thankful for the installation that DDS Acoustical Specialities did for a preschool classroom. The panels are making a remarkable difference in the sound in the room! The children and staff are able to concentrate more in the echo-free space. The company was excellent from start to finish! Fair estimate, quick turnaround, prompt, professional and high quality work! DDS was a pleasure to work with and I would highly recommend you call them to help with sound issues! They can improve your sound to make a difference!
Rachelle Kehoe
2023-07-27
From the very start DDS was a winner in my book. Dave answered the phone, came right out to assess our needs and we had a quote in no time. Their crew was informative, professional and kept their space tight and clean. And the product.... what a difference it has made in our restaurant. Even during the phases we could hear a difference from where the panels were installed and where they were not yet done. I would HIGHLY recommend them!
We recently worked with DDS Acoustical Specialties on an acoustic solution for a workstation area. We went with a combination of pinnable panels, ceiling panels, wall panels, and art panels, which have exceeded our expectations for the space.
Sarah Rahkonen
2023-03-21
My church engaged DDS Acoustical Specialties to reduce the noise level in our parish hall. The hard surfaces on the floor, walls, and ceiling made it difficult to converse when the room was full. We are very pleased with both the appearance of the sound absorbing foam panels which DDSAS installed on the ceiling and also with the reduction in the noise level. Many of our members have commented favorably on the improvement. I would recommend this company without reservation.
Great experience. We had a very severe sound reverberation issue in our town hall meeting room and Tyler and his team solved it quickly and affordably. Town meetings will never be filled with complaints (about the inability to hear) ever again. I highly recommend this company. And if you are ever in the Town of Sharon, Connecticut on a weekday, pop in, go to the second floor and hear for yourself
I had a great experience with DDS Acoustical Specialties from start to finish. I have a small physical therapy practice in Burlington, VT. and needed soundproofiing for my office. Mary was prompt and very knowledgable about how I could be helped on the phone and throughout the process. Steve made the long drive to provide and estimate for the work, and was extremely efficient, professional and pleasant to work with during the installation. They soundproofed the doors and ceiling tiles and it's made a tremendous difference.The entire process took about a month from start to finish. I now feel confident that my space is private and secure for my clients. I would highly recommend their services!
Michelle Downing
2022-08-01
Great company to work with. Reasonable price for an acoustical solution in my 2900 sqf restaurant space. The noise has reduced considerably and people can hear each other even when the restaurant is fully booked. Highly recommended.
Antonio De Trizio
2022-08-01
We had a great experience working with DDS. They checked all the boxes: great service, extremely knowledgeable, great selection at different price points; worked quickly and efficiently. Will use again in the future!
After many many years of hoping to solve our acoustical issues with our church hall, Memorial Congregational Church finally came across DDS Acoustical in 2020. DDS immediately came up with a solution that seemed plausible but could it fit within our limited budget. Being a church, nothing gets done overnight but DDS was very patient with us and after many changes of material and colors, we were finally able to get the approval to go ahead with the project earlier this year. I think all of us on the Trustees committee were holding our breath as to what the final outcome would be but in less than 4 days, DDS transformed our echo filled church hall into a wonderful space that can now be used by our music staff for many different events. DDS was incredibly helpful and patient with our church members and they answered every question in a professional manner and their work ethic is second to none. DDS gets 5 stars from Memorial Church.
Benefits of Library Soundproofing
Quiets Rooms for increased concentration

Great application for computer labs or reading rooms

Create inviting and comfortable spaces

Reduce noise pollution in busy activity areas