Industrial Soundproofing & Noise Control
Industrial Acoustic Solutions
DDS Acoustical Specialties is experienced in developing industrial soundproofing and noise control solutions that meet OSHA and NIOSH regulations for a wide range of industrial environments and manufacturing sites located in New England, New York, New Jersey, east Pennsylvania, and nationwide. Whether inside a facility and impacting the workforce or outside the facility where it affects surrounding residential areas, noise is a significant issue that companies continually need to address.
Industrial noise control is complex by nature. DDS Acoustical Specialties delivers a cost-effective well-planned, custom soundproofing and noise control solution.
We can engineer noise control & industrial soundproofing solutions for any industry
Class 1 Public Buildings, Industrial Plants, Inplant Offices, Loud, stationary Noise Sources, Enclosable Noise Sources, Outdoor Noise Sources, Compressors, Printing Presses, Drills, Machine Enclosures, Inplant Noise, HVAC Applications, Stamping Presses, Conveyors, Pipe and Duct Jackets, OEM Applications, Dust Collection Systems, Material Handling Systems, Pumps, Commercial and Industrial Generators, Indoor and Outdoor Cyclone Operations, and more.
Acoustical Products
Our industrial noise control products include metal or curtain wall panels, ceiling baffles, enclosures, barriers, and architectural elements. All products we work with are class A fire rated which help protect your facility an employees. Additionally, products are manufactured to be hypoallergenic and easy to maintain.
We stand by our products and are confidents that our application will reduce noise levels in your environment.
Reducing Noise In Industrial Environments
There are several ways to reduce and limit exposure to hazardous noise in industrial environments. The first option is to eliminate the noise source, but in many cases the noise source is essential to business operations. The next option, and where DDS Acoustical Specialties comes in, is developing a soundproofing system that reduces the noise created by sources.
When we develop systems we think about the the basic principles of noise control – sound insulation, sound absorption, vibration damping, and vibration isolation. We achieve success through a combination of products and custom solutions. In many cases we enclose equipment to reduce noise at the source and use sound absorbing material to prevent the spread of noise.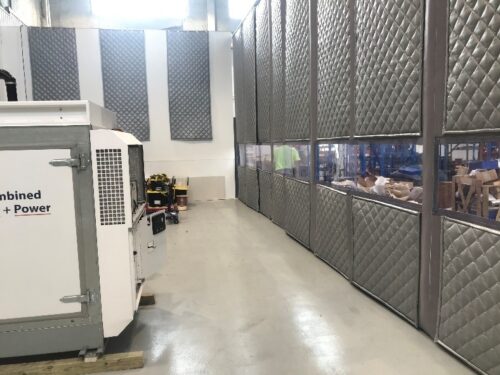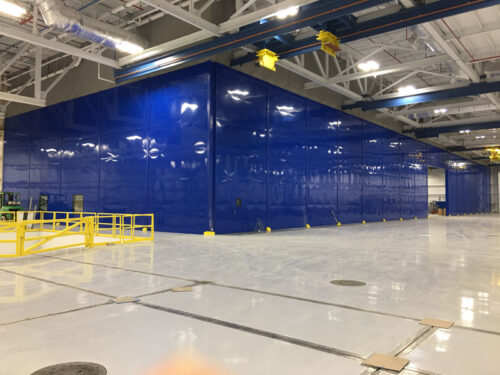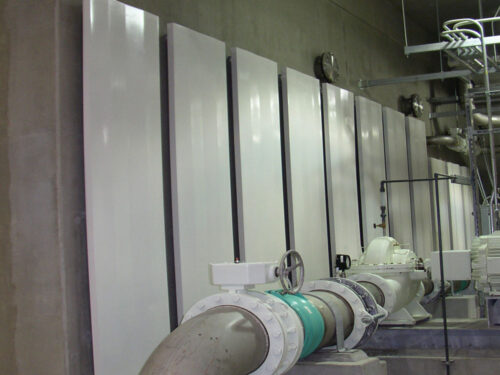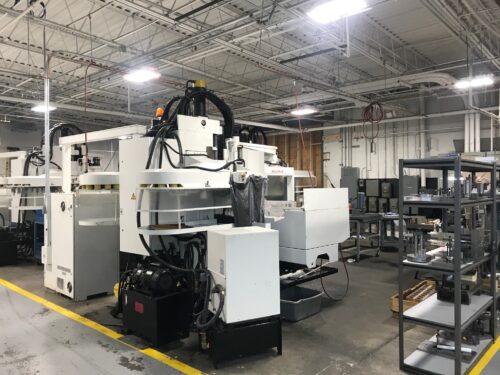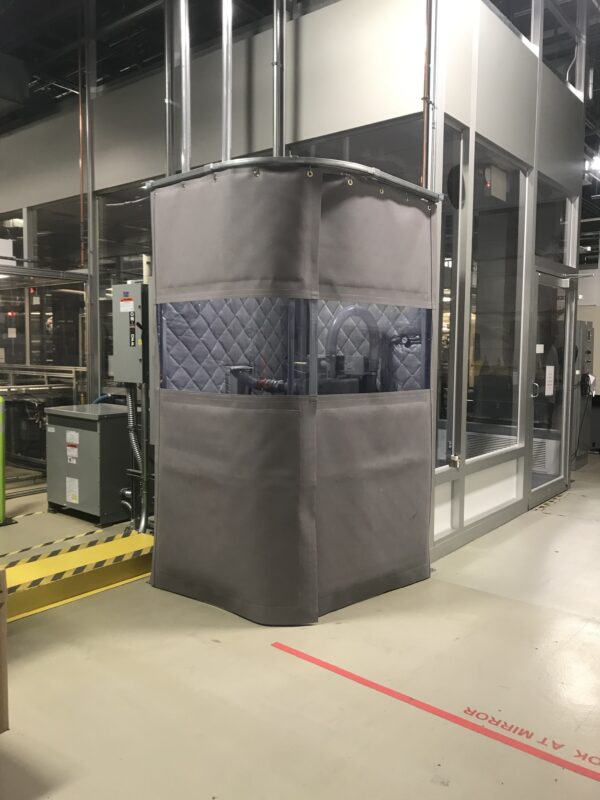 Occupational Noise Control
Occupational noise, also known as industrial noise is often a term used in occupational health and safety. This noise needs to be regulated in the workplace and have corrective steps documented to protect employees in the workplace from excessive exposure. Specifically, employees who encounter continued excessive noise levels might develop hearing loss and high-stress levels along with compromised safety issues. Occupational noise is a hazard traditionally linked with loud industries such as manufacturing and construction but can be present in any workplace.
Occupational safety organizations recommend that the maximum exposure to noise is 40 hours per week at 85 to 95 decibels (dB). For every additional 3dB, the maximum exposure time is reduced by a factor of two. Sometimes, a factor of two per addition 5dB is used, however these occupational regulations are acknowledged as inadequate to protect against hearing loss and other health effects.
Outdoor Noise Control
Outdoor noise control or Industrial non-occupational environmental noise is the sound that are transmitting from your business to neighbors. Compliance is typically defined by attenuation requirements or noise impact at a critical receptor point or at the property line. Regulations usually specify a maximum outdoor noise level of 60 to 65dB.
The noise source may be construction activities, manufacturing/production operations, or upset condition alarms. Agencies governing this type of noise are typically at the local level, but this can vary by state and municipality. Typical ordinances include:
Allowable noise levels during daytime or nighttime hours
Classification of areas into residential, commercial, or industrial
Defined decibel levels deemed to be acceptable for each category
Methods for Industrial Noise Control
One of the most effective and logical approaches to noise attenuation and industrial soundproofing is to install systems that minimize noise from the start, using control techniques such as:
Damping – A method of reducing noise levels from chutes, hoppers, machine guards, conveyors, panels and more
Selecting efficient equipment – Selecting fans, compressors, PD blowers and engines that operate efficiently contribute significantly to noise attenuation
Adjusting Fan Speed – Fan noise is in direct correlation with fan speed, so simple adjustments can produce significant results
Controlling high-pressure steam, natural gas, and other vent noises
Attenuating noise from process exhausts with stack silencers
Acoustically treating fans, blowers, and ventilating equipment
Closing openings in enclosures and barrier walls required for utilities
Benefits of Industrial Noise Control
Unlimited Size, Design, And Features

Improve Quality Control

Improve Health and Well-being of Employees

Reduce Indirect and Direct Costs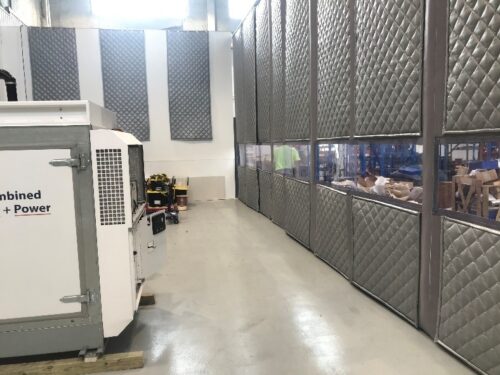 CASE STUDY
Dalkia Aegis, EDF Group
Dalkia Aegis, EDF Group is a nationally renowned supplier of cogeneration units capable of providing heat and electricity in one extremely efficient platform. Operational advantages over traditional heat and electricity sources have led to continued growth over the past 35 years. Having outgrown their facility at 55 Jackson St. in Holyoke, MA, they turned to a historic old building immediately adjacent to their existing facility. Built in 1880, the building, while neglected, showed promise. Throughout the course of 2020, the building was reclaimed and soon showed how beautiful and functional the old mill building could become.
Read More