September 20, 2022

Air Hammer Noise Reduced with Acoustic Curtain Enclosure
Machine noise is one of the most common noise sources in an industrial or manufacturing setting. Too much of it over a period of time can even be harmful to employees. Today, many companies are taking precautionary efforts to reduce the amount noise workers experience in their day to day. Duc-Pac, a pre fabricated duct manufacturer in Springfield, MA has done just that. They are moving into a new facility and preparing to install a new Air Hammer unit estimated to produce noise level of over 85 decibels(dB) when in use. They contacted DDS Acoustical Specialties to come up with a solution to reduce the air hammer noise in order to protect their employees.
What is Air Hammer Noise?
An air hammer is any device that uses highly pressurized air to drive a hammer. They are mostly used for shaping, scoring, or smoothing metal. When used, an air hammer hits an object several thousand times per second. As a result, the tip of the hammer hitting metal causes lots of continuous noise. In an open factory or space this noise could easily build up and hinder the efficiency of multiple employees.
Our Acoustic Solution – Curtain Panel Enclosure
In order to reduce noise caused by air hammering, we designed a floor mounted acoustic curtain panel enclosure using Sound Seal Barrier Backed Composite panels. These panels contain both a sound barrier and sound absorber for an extremely efficient reduction in noise.
For this particular application, we made a full enclosure, meaning four walls and a ceiling. When planning an enclosure system, there are numerous factors we take into account.
The Footprint – How large is the area in which a machine or workspace is going to be?
Access – How often will the inside of the enclosure be accessed, does it need doors?
Viewing – Does the enclosure need to include clear barrier for windows?
Ventilation – Does the enclosure or machines inside need any airflow?
Noise Reduction – What is our noise reduction goal?
The enclosure we designed to reduce air hammer noise was 8′ x 10′ x 8′. This size enclosure provided ample room for the planned air hammering that Duc-Pac had in store. Using a double track system, we were able to include a sliding curtain for access to the interior of the enclosure. We also built in clear view vinyl noise barrier to allow some light and viewing into the enclosure.
For airflow, we included two vent baffles. One vent baffle is located on the roof of the enclosure while the other is on the side. This will allow proper amounts of air to circulate within the enclosure.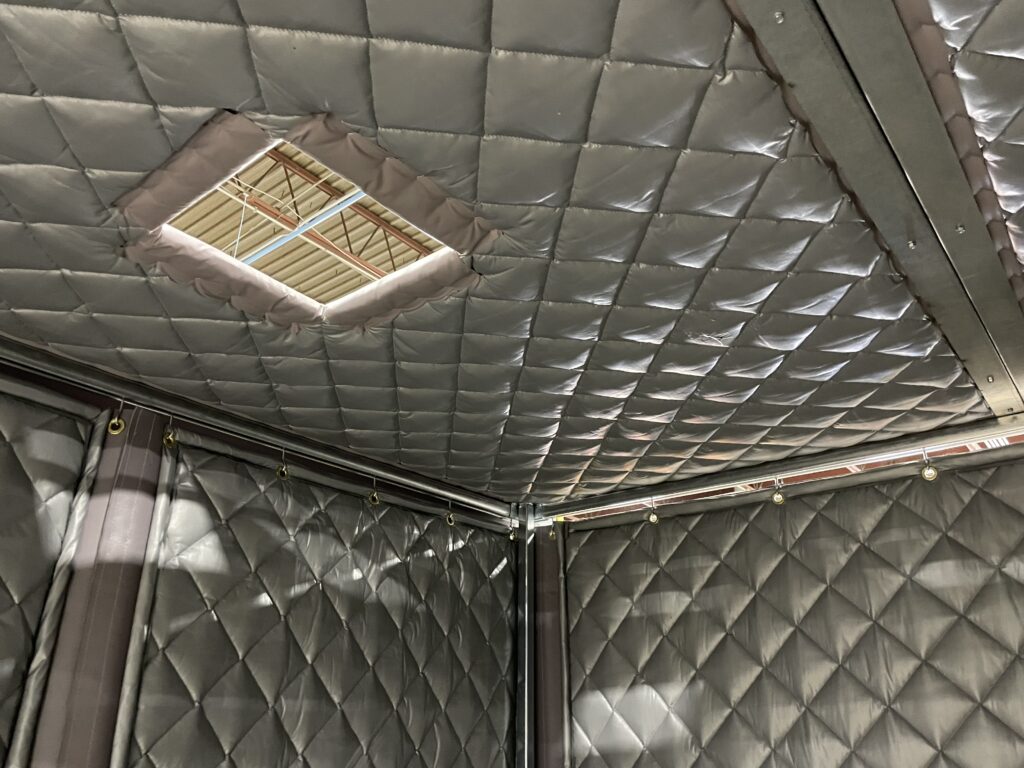 Finally, we designed this entire enclosure with a goal in mind, reduce the noise of the air hammer. The overall design is estimated to block approximately 25dB of noise while also having a Noise Reduction Coefficient of .85. While the air hammer is in use, we estimate that noise heard outside the enclosure will be between 50-60dB, well below the safe noise levels recommended by OSHA and NIOSH.
Within a day, DDS Acoustical Specialties' install team assembled the enclosure and it was ready for use.
Conclusion
Reducing high noise levels in industrial and manufacturing facilities is extremely important. It helps protect employees from dangerous sound to protect their health and well-being. At Duc-Pac we utilized a floor mounted, acoustical curtain enclosure to reduce noise being produced by an air hammer. Acoustic enclosures contain noise generated from all kinds of machines and other sources.