March 24, 2021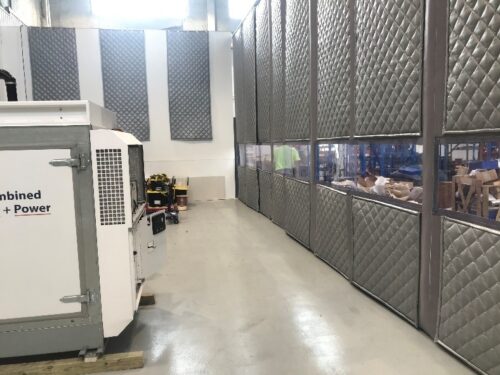 Dalkia Aegis, EDF Group – Industrial
The Sound Problem
Dalkia Aegis, EDF Group is a nationally renowned supplier of cogeneration units capable of providing heat and electricity in one extremely efficient platform. Operational advantages over traditional heat and electricity sources have led to continued growth over the past 35 years. Having outgrown their facility at 55 Jackson St. in Holyoke, MA, they turned to a historic old building immediately adjacent to their existing facility. Built in 1880, the building, while neglected, showed promise. Throughout the course of 2020, the building was reclaimed and soon showed how beautiful and functional the old mill building could become.
During the planning stages of the construction project, it was determined that a sophisticated test cell area would be constructed where operations and engineering would test units prior to shipment out to their final destinations. The test cell was located in the production area of the facility, which consisted of a concrete floor, corrugated metal walls and a concrete ceiling. All these acoustically reflective surfaces combined to increase overall noise levels during testing by as much as 8-10 dB(A).
DDS Acoustical Specialties' Solution
DDS Acoustical Specialties, LLC was brought in to provide a flexible and simple solution to the problem. Sound Seal BBC 13 2" acoustical curtain panels were customized to create a set of sliding curtains of sufficient STC to block noise from infringing on the rest of the production area.
In an effort to keep material costs down, the roller track and supporting hardware were suspended down from an existing building structure. While a simple and elegant solution to supporting the curtains, the associated hardware would interfere with a key piece of equipment in the space.
It was determined early on that any supporting hardware suspended from the structure would need to be easily and quickly removeable. It was up to DDS to turn standard curtain support hardware into "quick-release" hardware in order to remove the system so that a large bridge crane could access the test cell area. A storage area for the curtains was arranged, so that they would be able to stay safely hanging and only the track and roller system would need to be removed.
The Outcome
Upon completion of the curtain installation, initial test runs showed a significant drop in sound pressure levels in the production area. Depending on the equipment, 12-15 dB reductions were being realized.
Kevin Molongoski, project manager for Dalkia Aegis, EDF Group, stated, "Totally successful. The noise reduction was significant, and just as important, the arrangements of the curtains is so simple and efficient. Everyone on the production floor is very happy with the results."