March 24, 2021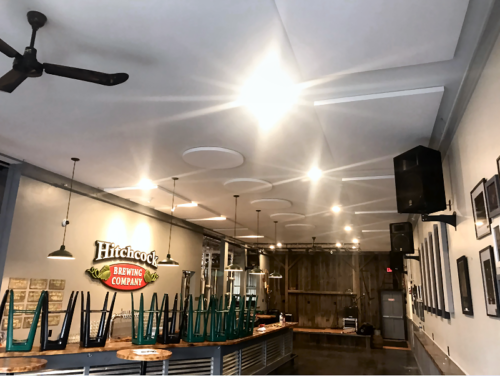 Hitchcock Brewing
DDS Acoustical Specialties utilized Chroma panels by Sound Seal to tame the acoustics in the tasting room of the Hitchcock Brewing facility on-site at Kringle Candle. A number of years ago, owner Rich Pederson followed his passion and opened a brewery.
Partnering with Kringle Candle, a new facility was recently built to house the growing enterprise. Besides a wide variety of spectacular craft beers, the facility offers some of the best bands in the Pioneer Valley. They also offer open mic nights for amateur talent to show what they can do.
Opening to rave reviews for the tastes and activities, one issue continued to plague the facility. People wrote glowing reviews that inevitably contained the "but…". The sound in the space just wasn't right. While visually top notch, the materials used on the construction of the space were extremely reverberant. With an RT60 (reverberation time) of well over 4 seconds, it was obvious that acoustical absorption was required to allow the patrons to fully enjoy the space.
DDS Acoustical Specialties, LLC recommended the Sound Seal product with the idea that the panels would look attractive and add some visual interest to the ceiling, without taking away from the initial architectural design of the space.
The 2" panel yields an overall NRC (Noise Reduction Coefficient) value of 1.00 Sabines, and a 1.09 NRC at 500 Hz. This panel offered plenty of acoustical power to get the job done.
After installation, Rich cranked the facilities sound system to put the panels to the test. Over the howl of Motley Crue's "Dr. Feelgood" Rich marveled, "I can hear every bass note. I can hear every drumbeat, instead of it being a muddled run at the bottom of the song". Looking forward he said "I can't wait for the next live entertainment night!"